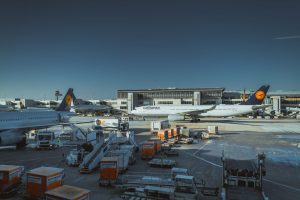 Air cargo revenue is expected to increase by about 5% to $116-billion in 2019, despite potential escalations in the US-China trade war and the uncertainty surrounding Brexit, International Air Transport Association (Iata) chief economist Brian Pearce told attendees of the Iata Cargo Day, in Geneva, Switzerland, on Thursday.
He explained that Brexit – if it happens – would impact on the UK's business confidence and cause volatility in the currency, regardless of whether it is a 'deal' or a 'no deal' scenario.
However, if the UK exits the single market, there will be greater border friction and border costs that will impact on air cargo volumes into and from the UK. Nonetheless, while Brexit will be damaging to the air cargo industry, Pearce stressed that none of the scenarios "stopped growth".
He felt that the bigger concern for the air cargo industry was that of the US-China trade war, as well as an escalation in protectionism. Using Citibank estimates, Pearce noted that Iata had looked at both a 25% increase in tariffs and further escalation, namely tariffs on all US-China trade, but again the scenarios, while "damaging . . . doesn't stop expansion."
Overall, Pearce commented that Iata's view is that world trade is still growing, but it, and subsequently air cargo, is "suffering some headwinds".
He added that air cargo growth in 2019, while still positive, would grow at a slower rate than previous years.
"We had a fantastic year in 2017," Pearce noted, adding that as businesses were generally "caught out" by the strength of economic growth in 2016,  they turned to air cargo to restock quickly, but have since switched back to their normal freight methods, and as a result air cargo demand tailed off in 2018.
However, he stressed that "not every market seemed to slow down," particularly some of the smaller South American markets.
Further, he noted that this supposed slowdown in air cargo and, in particular, "the shrinkage" in African markets, was not indicative of performance in the medium term.
Pearce commented that cargo revenue had, of late, played an important role in offsetting the decline in passenger base fares and that he had certainly seen increased revenue contribution from cargo services over the last three years.
"In 2019, cargo revenues [will represent] just over 13% of airline revenue."
"We transport a third of cross border trade . . . cargo is a really important component of economic development . . . this year the industry opened 1 300 unique city pair connections along which cargo and passenger travel." He added that such connections really are the source of economic benefits.
Iata's expectation is that cargo freight ton kilometres will rise by 3.7%, "which is below the trend because of the sluggish world trade performance, but not bad considering", Pearce concluded.
*Nadine James was a guest of Iata at the Iata Cargo Day.
http://www.engineeringnews.co.za/article/air-cargo-revenue-to-increase-by-5-in-2019-despite-trade-friction-2018-12-14