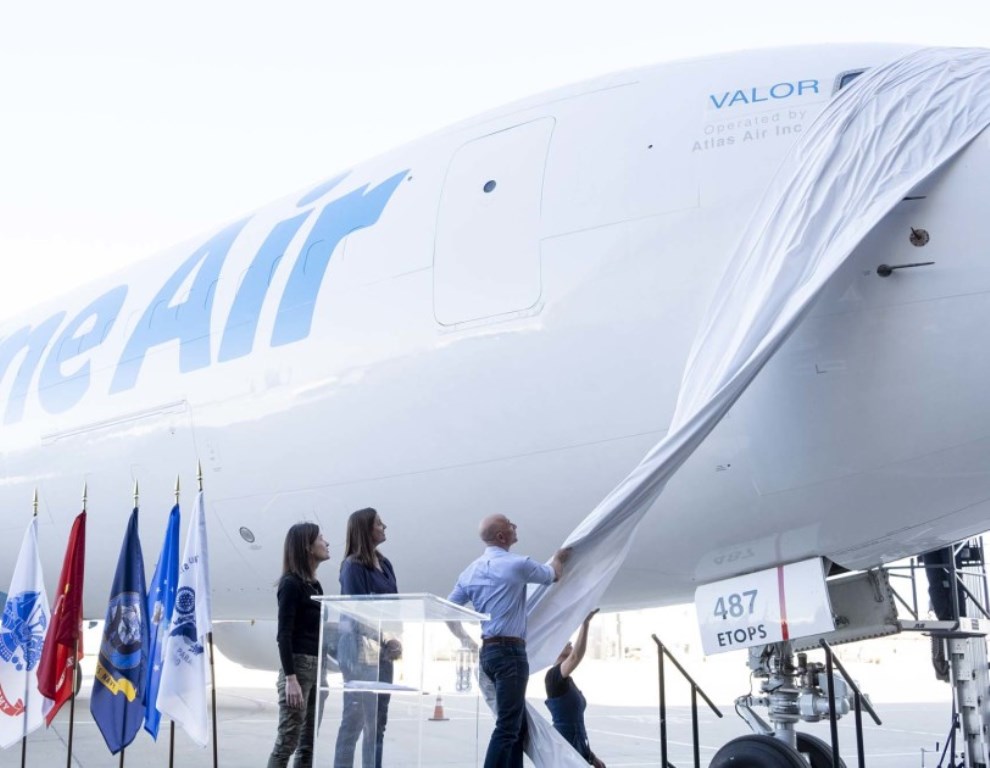 Atlas Air has delivered its twentieth and final freighter to Amazon as part of its deal to operate a dedicated fleet for the e-commerce giant, while reports suggest more could be on the way.
The Boeing 767-300 converted freighter, which bears tail number N1487A, entered into Amazon's domestic air network Prime Air ahead of the peak holiday season to serve its growing customer demand.
The delivery also completes the e-commerce firm's freighter network of 40 aircraft, 20 from Atlas and 20 from ATSG.
Revealed yesterday, on veteran's day, the aircraft was named Valor in honour of the Amazon military community – the 18,000 veterans, military spouses, and citizen soldiers who now work for Amazon.
"Our delivery of 20 aircraft to Amazon over the last 28 months is a significant achievement," said William Flynn, president and chief executive.
"It is an accomplishment that we are very proud of and for which our employees worked hard. We appreciate Amazon's confidence in our capabilities, global scale and operating excellence.
"E-commerce is the fastest growing air cargo segment, and we are excited to continue our partnership with Amazon as it delivers innovative service to its customers."
Under long-term commercial agreements announced in 2016, Atlas Air Worldwide's airline subsidiary, Atlas Air, Inc., operates the aircraft for Amazon on a CMI (crew, maintenance and insurance) basis and its leasing unit, Titan Aviation, dry leases the aircraft to Amazon.
Meanwhile, reports from the US suggest the e-commerce company could be looking to add even more freighters.
The Seattle Times quotes an unnamed source as saying the e-commerce firm put out a request for six additional B767s earlier this year.
However, with the number of B767s available and feedstock for conversion drying up, sourcing the aircraft could prove a challenge.
The source suggested the company could turn to Airbus A330 aircraft to meet the shortfall.
Earlier this year, Bloomberg suggested that Airbus was considering launching a freighter version of its A330neo aircraft on the back of requests from Amazon and UPS.
The expansion of its freighter fleet wouldn't be too much of a shock as the $1.5bn air hub it is building Cincinnati/Northern Kentucky Airport has space for 100 aircraft.
https://www.aircargonews.net/news/airline/freighter-operator/single-view/news/amazon-takes-delivery-of-final-atlas-air-freighter-ahead-of-peak-season.html