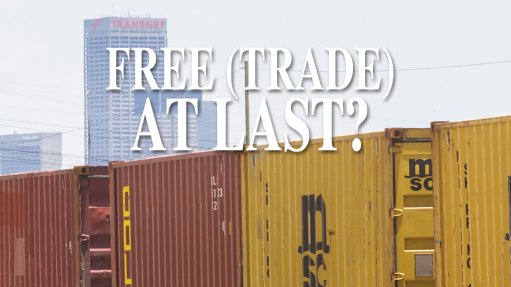 From March 17 to March 21, African heads of State and government held an extraordinary summit in Kigali, Rwanda. This was the tenth extraordinary summit of the African Union (AU) Assembly and the last day saw the signing of the agreement to establish the African Continental Free Trade Area – which is abbreviated to AfCFTA, not ACFTA.
The agreement to create the AfCFTA was paralleled by the Kigali Declaration, which called for the "operationalisation" of the AfCFTA and for the start of the more ambitious Phase II talks, which would cover competition policy, intellectual property and investment. A protocol on the free movement of people was also signed. The AU has 55 member States, 44 of which signed the agreement creating the AfCFTA, 47 signed the Kigali Declaration and 30 signed the protocol on free movement. Five more countries – including South Africa – signed the AfCFTA agreement on July 1, taking the total to 49. The countries which have not yet signed are Benin, Botswana, Eritrea, Guinea-Bissau, Nigeria and Zambia.
The currently agreed Phase I of the AfCFTA covers trade in goods and services. In terms of trade in goods, it addresses the issues of tariff liberalisation, nontariff barriers, rules of origin, trade facilitation (cooperation between customs authorities and document harmonisation), transit and transit facilities, technical barriers to trade, standards, institutional arrangements and dispute settlement. The services covered are air and maritime transport, insurance (applying to financial services and tourism) and banking. To come into effect, the AfCFTA has to be ratified by 22 countries. But, as of the end of October, only seven countries had done so – Chad, eSwatini (formerly Swaziland), Ghana, Guinea, Kenya, Niger and Rwanda.
Joining the Elephants
"I am optimistic about the AfCFTA. I have never seen the leaders [of Africa] so engaged on a subject like this one," highlights the University of Cape Town (UCT) Nelson Mandela School of Public Governance's Professor Carlos Lopes. (A development economist before joining UCT, he had served for four years as executive secretary of the United Nations Economic Commission for Africa; he hails from Guinea-Bissau.) "Secondly, the leader of the process is the President [Mahamadou Issoufou] of Niger, a small country. He has won agreement from his peers to have a special summit in Niger next year to ratify it. That is a very clever way of pressurising countries into ratifying. Thirdly, African leaders now realise they can't industrialise without a free trade agreement."
There are still, he points out, tensions between smaller and larger States across the continent when it comes to trade and market access. This is because the possible forward and backward linkages between their economies – the creation of transborder value chains – have not yet been established. "Once studies have been done, it will be possible to establish [which] countries can specialise in which elements of which supply chains. For example, the South African car industry uses leather, but South Africa is not a major leather producer; but other African countries could supply the leather. So, the key is to establish these linkages. Once the agreement is ratified, the opportunities will emerge."
He notes that a considerable amount of work has been done to identify the benefits of a continentwide free trade area. "Currently, most intra-African trade is in manufactured goods, while most African trade with the rest of the world is in commodities. So, any increase in intra-African trade will increase manufacturing in Africa. That is one benefit. A second benefit [is that] studies have shown that the AfCFTA could increase intra-African trade to 50% of African trade, from the current 20%. The third big benefit is it will allow for cross-border infrastructure development, which will become essential for the future to support the more sophisticated supply chains that small countries can't handle on their own – these will need regional networks."
Addressing a Trade and Industrial Policy Strategies (TIPS) workshop last month, the UCT Graduate School of Business's Professor Faizel Ismail observed that intra-regional trade had amounted to 10% of total African trade in 1995. This figure increased to 18% in 2014. In sharp contrast, for the European Union (EU), intraregional trade accounted for 70% of total EU trade, while intraregional trade absorbed 50% of US exports. The potential for the AfCFTA is thus considerable.
Intraregional trade in sub-Saharan Africa is currently very concentrated, with some 66% of the regional demand for intraregional exports accounted for by just ten countries, including Côte d'Ivoire, the Democratic Republic of Congo, South Africa and some other Southern African countries, points out International Finance Corporation (IFC) Southern Africa country manager Saleem Karimjee (the IFC is a sister organisation of the World Bank). Trade within Africa is dominated by trade within regional blocs and not trade between regional blocs. "So, most trade and investment takes place close to home."
Addressing the same TIPS workshop as Ismail, Lopes put the development of the AfCFTA in a global context. The global economy was currently marked and dominated by competition between the US and China. Under President Donald Trump, the US was seeking to reformulate the rules of the world trading system because they no longer benefited America. Under President Xi Jinping, China was seeking to defend the current rules – because they do benefit China – and to create a zone of dependence and, more widely, influence, through various initiatives (most obviously the Belt and Road Initiative). He reported that the Chinese leadership saw Trump as a highly rational actor with a coherent strategy that made sense for the US – the American President's infamous tweets serving (accidentally or purposely) to distract attention from this.
He cautioned that, despite their rhetoric and aid programmes, both giants were seeking their own advantage, China every bit as much as the US. And, of course, there were also the EU, Japan, India and even countries like Turkey, the United Arab Emirates, Malaysia and Singapore, all active in Africa and all seeking to secure their interests. "I believe that the only defence we can have is to make the continental free trade area work," he affirmed. A successful AfCFTA would give the continent the power and standing to be able to negotiate on equal terms with the other major trading powers and blocs, as the AfCFTA would represent a market of 1.2-billion people and a combined gross domestic product of more than $3.4-trillion.
Opportunity Knocks
"The signing of the AfCFTA agreement brings us much closer to the vision of an economic union of African States," enthused Transnet Port Terminals (TPT) CEO Nozipho Sithole in August. "It opens up opportunities for both small and big business . . . [T]he biggest beneficiaries could be Africa's small and medium enterprises, which account for approximately 80% of the continent's businesses. The AfCFTA agreement will put measures in place that allow companies to tap into regional markets that they might otherwise [not be able to] access through a combination of preferential trade regimes, transit and customs cooperation, and tariff reductions on intermediate and final goods."
As for TPT itself, it already has the objective of partnering with terminal operators in other African countries, and not just those in South Africa's Southern African Development Community (SADC) neighbours. Countries beyond the SADC where the company sees opportunities for partnership include Benin, Ghana, Kenya, Liberia, Nigeria, Senegal and Togo. "Considerable investment is being made in most of the major port gateways on the continent," she highlighted. "The next challenge is linking the ports to the hinterlands they serve . . . Stronger economies to our north will open new two-way trade opportunities. South Africa can – and should – be helping African countries to unlock the potential of their own markets. South Africa is in a strong position to be a conduit for inward investment and the opening up of global markets for goods made in Africa." South Africa is already the number one investor in the rest of the continent, she noted, with South African business investing about $7.4-billion elsewhere in Africa last year.
"[T]he opportunities are plentiful, and not restricted to any one subregion or country in Africa," affirms Karimjee. "[N]early all of Africa has a rapidly expanding population that is increasingly residing in cities, which bodes well for long-term growth." For South African business, there are many opportunities across sub-Saharan Africa, including sectors such as mining and associated services, finance, retail, tourism and hospitality, agriculture and agribusiness, food and beverages, transport and logistics, medical services, private education and construction. The IFC was willing to work with South African business seeking to invest elsewhere in Africa in areas where they have competitive advantages.
"The industrial capacity of other parts of Africa is not nearly as developed as South Africa," he explains. "But there are areas in which South African companies can look to develop regional supply chains now." Thus, South Africa has a strong beef processing capability but its neighbouring States have strong beef production, while there is strong demand for speciality products such as grass-fed beef. So, beef could be imported from, for example, Botswana, Namibia and Zambia, and processed in South Africa. And tea and coffee, which South Africa produces in only small quantities, could be imported on a greater scale from East Africa. In the energy sector, gas could be imported from other African countries as well as electricity from Mozambique.
http://www.engineeringnews.co.za/article/new-pan-african-trade-bloc-promises-many-benefits-to-the-continental-economy-2018-11-16