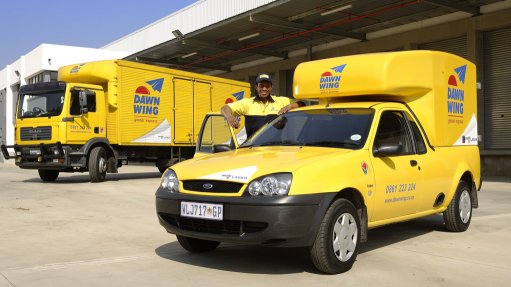 Express parcels company DPD Laser has rolled out an advanced mobile technology platform at its Dawn Wing and Time Freight businesses that it believes sets it up as an industry leader in the South African express service sector.
The platform offers customers unprecedented real-time visibility and control of their deliveries.
The roll-out is a key part of DPD Laser's strategy to offer market leading delivery services for both business-to-business (B2B) and business-to-consumer (B2C) clients and, in doing so, become the "undisputed market leader in e-commerce delivery".
DPD Laser CEO Iain Johnson comments that the e-commerce market in South Africa is set for massive growth but has been poorly served by delivery companies.
He adds that, in all markets globally, where e-commerce has grown exponentially, reliable and convenient delivery solutions have been critical enablers.
"Our technology development provides our customers, and their customers, a high-quality service that gives the level of control they've wanted over their deliveries."
Johnson explains that DPD Laser's new 'Follow My Parcel' platform alerts customers to their expected delivery time and confirms their delivery address, both of which can be changed by the recipient at any point during the delivery day.
He notes that it also provides details of the specific driver and delivery vehicle, a useful feature in a security conscious environment. He adds that the platform then alerts the recipient by SMS when their delivery is next en-route and the recipient can track the driver on a live map as they make the delivery.
Moreover, DPD Laser asserts that the end result is a more convenient and personalised delivery experience, which has already improved first time delivery success rates and resulted in significantly less customer frustration.
"This strategy of building a hybrid B2B/B2C delivery network, underpinned by technology, great service and an obsession with the customer experience, is nothing new to us as it is what our sister companies across DPD group have been successfully building for many years," Johnson concludes.
http://www.engineeringnews.co.za/article/new-technology-puts-customers-in-control-of-express-deliveries-2016-12-02