The South African Post Office has developed a reputation for offering poor service to its customers.
This was shown in 2018 when a mail backlog that started in May took six months to clear.
According to SA Post Office CEO Mark Barnes, the cause was the SA Post Office not paying their logistics transport providers in April.
This, combined with a two-and-a-half week strike in July and a week-long go-slow for a week prior, meant the SA Post Office developed a backlog of several million letters and mail items.
Additionally, Barnes said that the SA Post Office's international mail volumes had increased by over 400% – something the SA Post Office was unprepared for.
Tests by MyBroadband
Post Office delivery tests by MyBroadband in July and August 2018 showed the extent of the problem in the real world, and saw the Post Office fail to deliver a single item of mail on time.
In fact, one letter that was meant to take three days to be delivered took 81 days to reach its destination.
To put this in perspective: the delivery of this letter took longer than it took the Roman Empire's letter delivery service over 2,000 years ago.
In November, however, the SA Post Office claimed that it had cleared its backlogs – which meant that all deliveries from then would arrive on time.
"SA Post Office worked tirelessly to resolve the factors causing the processing backlog. It is pleasing to report that these issues have now been addressed and the backlog is resolved," said Barnes.
To see if the SA Post Office was telling the truth, and if South Africans can expect better service in 2019, we put the organisation to the test.
The 2019 test
For the test, MyBroadband sent four letters through the SA Post Office's standard delivery system.
From a Post Office in Centurion, letters were sent to addresses in four cities:
Pretoria
Cape Town
Durban
East London
Each of these letters were sent at the same time, from the same location – the Highveld Post Office – on 25 January 2018.
Complete failure
According to the SA Post Office's licence conditions, which are set by ICASA, it needs to deliver 92% of all ordinary mail within five days.
On its website, the Post Office also offers the following delivery guidelines:
Letters generally take two days within the same town or city to reach their destination.
Three days between two cities in the same province.
Four days between cities in different provinces.
After 11 days – over twice the time stipulated in the Post Office's guidelines – none of the four letters we sent had reached their destination.
This shows that the SA Post Office is not living up to its licence conditions or its promise of delivering on time.
The graphic below provides an overview of MyBroadband's latest Post Office test.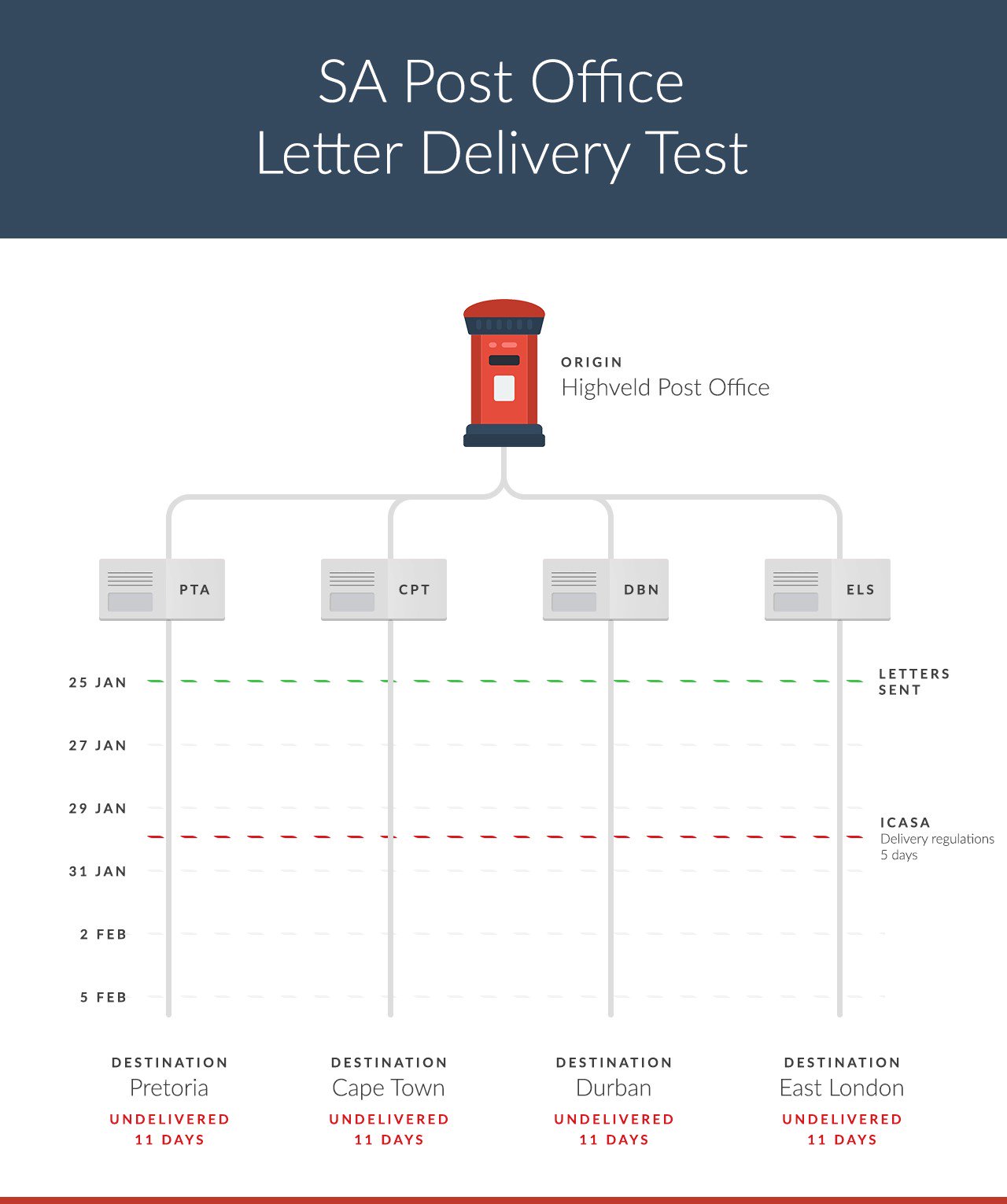 https://mybroadband.co.za/news/government/294728-the-big-sa-post-office-lie.html