Airfreight rates continued to track ahead of 2017 levels in September as the industry prepares for what is expected to be a busy peak season.
The latest figures from Tac Index show that airfreight rates on services from Hong Kong to North America increased 14% year on year to reach $4.31 per kg – the first time this year that prices have breached the $4 per kg mark.
Prices on the trade lane are also up on 2016 and 2015 levels for the month and represent an improvement on August levels, although this is to be expected as rates generally ramp up as the industry heads into its fourth-quarter peak.
There was a similar trend on the Asia-Europe trade as prices from Hong Kong to Europe were up by 19.7% year on year in September to $2.91 per kg, another high for the year.
This also represents an increase on the September figure in 2016 and 2015 and is up slightly on August levels, although not by as much as has been recorded in previous years.
Airfreight rates on the transatlantic trade lane were also up on last year in September, although by a lower amount of 1.3% year on year to $2.45 per kg, continuing the trend recorded for most of the year.
The increase on the transpacific and Asia-Europe trade lanes comes as freight forwarders warn they are expecting another busy peak season like last year when shippers were forced to turn to charter services in order to move goods.
There are also concerns that congestion on the ground at certain major hubs could create bottlenecks.
However, while cargo traffic has continued to increase this year, the pace of growth has slowed and capacity additions have continued.
As a result, the average cargo load factor is three percentage points lower than it was last year. Average load factor at European airlines over the first eight months stood at 45.3% in August, down 0.4 percentage points, at Asia Pacific Airlines it is down 1.1% to 53.7% and at North American carriers the figures is up 0.2% to 35.8%.
The question is whether this extra capacity has created enough spare cargo space to avoid the shortages experienced in 2017.
Click on chart for interactive version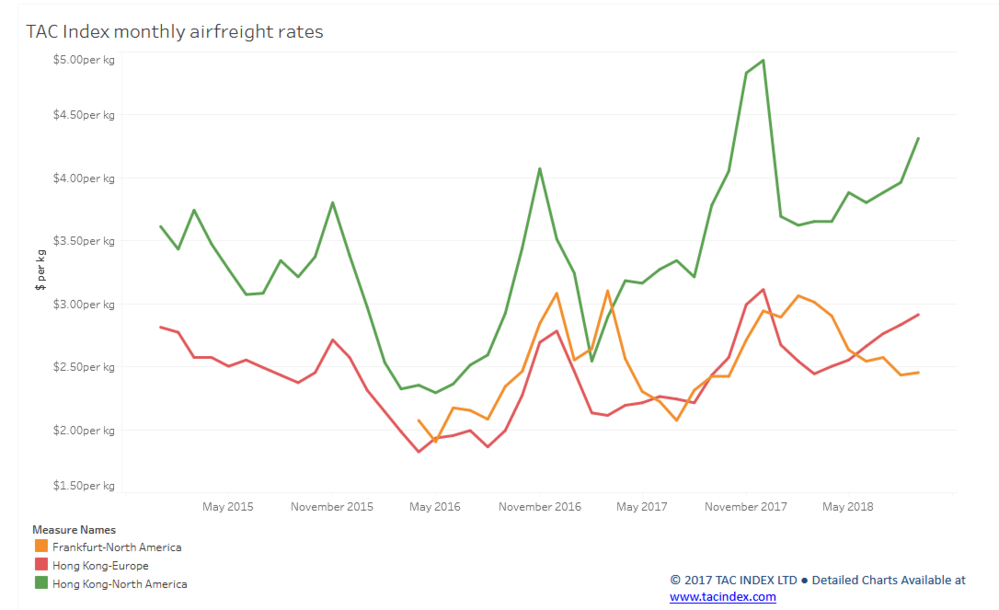 https://www.aircargonews.net/news/business/airfreight-rates/single-view/news/transpacific-rates-breach-4-per-kg-mark-as-industry-heads-towards-peak.html